On 21st October 2020, Individual's from the industry's top recruitment companies came together for a slightly stranger than usual black-tie event. With last year's black-tie Gala Dinner being at The Brewery in London, this year's event was hosted completely virtually over Zoom due to coronavirus restrictions, but it was still as important as ever in celebrating the innovation and brilliance of the organisation's within this sector.
The TIARAs exclusively recognise companies featured in TALiNT International's annual Top UK Recruiters Report, which have a UK net fee income of at least £5 million. This represents only 6% of the UK's c40,000 recruitment firms.
Bruin Financial were proud to receive the highly coveted Diversity & Inclusion award. This award is a true testament to all of the hard work that they do in the Diversity & Inclusion sector; encouraging a workplace in the Financial Sector that can be free from any discrimination and bias for all.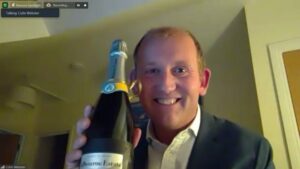 The judges commemorated Bruin Financial for their Diversity & Inclusion efforts, saying "Bruin Financial's custom inhouse tools shows its commitment to D&I, not only in its own business but through its clients. Judges also commended its commitment to improving D&I within the recruitment industry with a comprehensive range of initiatives."
This is now the 2nd year in a row that Bruin Financial have won this award, having won the Deliotte 2019 Award for the same category, demonstrating Bruin Financial's persistent efforts that form part of Bruin Financial's core values.
Some of the initiatives that contributed to Bruin Financial's award win in 2020 were Bruin's own gender bias advert decoder, the launching of our Neurodiverse recruitment and talent management programme 'Thinking Differently'  and their more recent work within ESG.
Bruin Financial's Managing Director Emily Ayre commented, ' We are absolutely thrilled to have won this prestigious award for the second year running. Our consultants work incredibly hard to ensure diversity and inclusion is a key part of the recruitment process as well as continuously educating our clients on the importance of this. Diversity and Inclusion is engrained within our inside and outside culture and I am so pleased that this has been recognised again.'
To see more information on Bruin Financial's diversity initatives, visit our website or contact Emily Ayre.